Do you need to split files?
Do you need to transfer files but they are too large?
Your file does not fit on a floppy/USB-disk/CD/DVD and you really want a hard backup of these VMWare/Ghost disk images?
Your file is rejected by e-mail servers because it's too big?
Download and use for free my own creation: Split! For Windows 3.1/95/98/NT/2000/XP/2003/...
Featuring:
Split has an easy user interface with integrated help (status bar and tooltips).
Splits by file size or by number of pieces.
Easy presets for the part size (floppy, cd, dvd, ...)
A DOS batch and Linux/UNIX shell script is custom created to put the pieces back together into the original file, this way the recipient needs no special software to get your big file back in one piece.
A command line version is included too (use for scripting or for ultimate performance).
Estimates the time needed to transfer the splitted file parts.
Support for files larger than 4 Gigabytes! The biggest files that can be handled are now around 8 million terrabytes.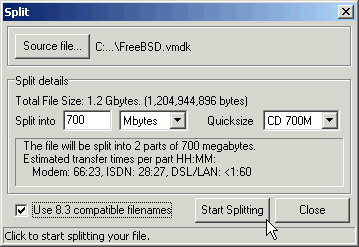 Version history:
You can find/download the Split version history here

Split32.zip (250k). Plain WinZip file with optional INF installation script.

Split32.exe (281k). Auto launches the INF script to install.
Check out the online manual or download the Acrobat PDF (included with the program downloads too).

Split16.exe (68k). Ancient no longer supported 16 bit version. Remains here for historic reasons. It is a selfinstalling WinZip file! (16 bit, works also on 95/98/NT/XP, no LFN support on NT). Note that I stopped further development on the 16 bit version since I started the 32 bit version. The 16 bit version does not have the cool features described above under the "What is new in version X.XX". Only use this version if you want to experiment with old Windows 3.11 virtual machines or if you are a very poor school with only 80286 machines.
The most important is that it is FREE WARE!